Invoice factoring that is easy and transparent, with no hidden fees
Your factoring account gives you access to some powerful tools designed with one thing in mind — saving you more on the things that move your fleet forward.

Trusted partner
Freight factoring advice and resources based on your needs
Fast funding
We work hard to get you paid within 24 hours

No hidden fees
No fuel card funding fees, no invoice-upload fees

Prospect credit checks
We protect your company's reputation via the largest database of freight broker payment info

Easy invoice uploads
Mobile app and web tools for uploading invoices, 24/7

Fuel card program
Save thousands per year with fuel discounts at 4,500+ sites*
We make invoice factoring easy
Invoice factoring, or freight factoring, is a powerful way to manage cash flow and pay for operating expenses without creating debt. Our approach is simple — offer easy, transparent factoring for truckers with no hidden fees. With 30+ years of experience in trucking financing and the best customer service in the business, we're the cash flow partner for you.
Included with Factoring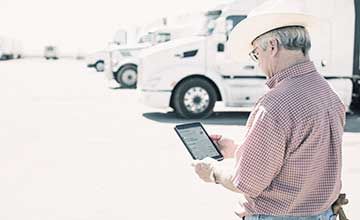 Free credit checks
With 24-hour access to the largest database of freight broker payment information, you know you're selecting legitimate loads — color-coded for ease of use.
Have freight factoring questions? We've got answers.
From owner-operator companies to small businesses, running trucking companies can be challenging. We aim to make your life easier. While accounting and billing are some of the most important aspects of running a business, it often is neglected. Not anymore. Freight factoring is a powerful way to manage cash flow and free up your revenue so you can put it to work.
Freight factoring goes by many names — invoice factoring, fleet factoring, load factoring, trucking factoring, and others. Regardless of what you call it, factoring operates the same. Here are a few questions commonly asked about this incredible tool.
What is a freight factoring company?
Freight factoring companies are an increasingly common way to free up cash flow in the trucking industry. The elements of running a freight business are relatively simple:
Pick up a load

Deliver the load to a specific location

Get paid for the transport and delivery of goods
However, it is rare for a customer to pay you quickly. In fact, the average time it takes for an invoice to be paid is 40 days. Some cases take much longer. Factoring for truckers is a way to get the money you need, when you need it.
Using invoice factoring, you can get paid in as little as 24 hours. As a small business owner, you outsource the collection of payment for your invoice to a freight factoring company like WEX Capital. We buy the invoice from you at a minimally reduced rate. This frees you up to focus on getting loads while we focus on collecting payment.
And because you get paid quickly, you have the revenue to cover expenses as they occur — no need to use a credit card, withdraw from your business savings account, or take out loans.
How does freight factoring work?
Factoring with a company like WEX Capital is simple. Once you apply to work with us and your business is approved, most of what you do is business as usual.
To begin, you will let WEX Capital know what companies you want to deliver for, and WEX Capital will vet the clients to ensure they have a good track record of paying invoices.
You pick up, move, and deliver cargo for your brokers like normal, but you assign the invoice to us. The factoring company (WEX Capital) will then pay you the majority of the invoice to you and collect from the client based on the invoice terms.
You can use the payment in any way. It's just like regular cash flow. Need to purchase new equipment, hire employees, expand, pay bills, or cover payroll? It's your money to benefit your trucking business.
What are the benefits of freight factoring?
Freight factoring comes with some significant benefits, including:
Quick payment — Invoice factoring companies give you uninterrupted cash flow. Payment can happen in as little as 24 hours. You can turn your invoices into capital that keeps your business operating without taking out conventional loans.
Reduced accounting burden — Load factoring, or freight factoring, means outsourcing your accounts receivable to another entity. Doing so removes the burden of tracking down invoice payments and will get revenue into your account quickly. It's a great way to free up time to run your business.
Qualified loads — Knowledge is power. When you factor with us, we perform credit checks to ensure you know you are working with quality clients. This protects you and the factoring company.
Ongoing borrowing — Factoring invoices means you don't have to wait for previous invoices to be paid before factoring more. (If you use invoice financing, you have to apply for a new loan after each invoice is paid off, and you are still responsible for all aspects of invoicing).
Options for bad or no credit — Sometimes small businesses have trouble building credit, or one tough scenario knocks down your credit score. With invoice factoring, your creditworthiness is not an issue. We focus on your customers' credit and ability to pay for your services.
Fuel cards — Many factoring companies also give small business owners access to fuel cards with various advantages, including fuel discounts.
How does my business qualify for freight factoring?
Most freight factoring companies determine qualified applicants based on risk and volume. Anyone you choose to work with will likely ask for the following information:
Your monthly Invoice Volume — your monthly volume can impact the amount you pay. The more you utilize freight factoring, the less you will have to pay.
Your customer base — diversity is important but not critical. However, if you only have one customer you deal with, you will be considered to have a higher risk than a small business that works with several freight brokers. The more diversity you have in your clientele, the more likely you will qualify for factoring.
Average days to pay — every freight factoring company will take into account the time it takes to get your invoices paid. If a client of yours averages $25,000 in invoices a month and takes roughly three weeks to pay, their risk is much lower than another client that ships the same volume with you but takes nine weeks days to pay.

In this scenario, a factoring company can purchase three times the amount of invoices with a customer that pays in three weeks.
There are additional variables that determine your eligibility for freight factoring based on your business situation — these will be discussed by a sales representative when you apply.
What should I look for in a contract?
In any business decision, you should pay close attention to contracts. Whether you work with WEX Capital or someone else, here are a few things to keep in mind when reviewing your invoice factoring contract:
Know how much can be borrowed — a factoring contract will have a maximum credit line which limits how much you can factor. This can also limit business growth. Most freight factoring companies use larger loans from other banks.

At WEX Capital, we are the bank and can offer larger credit limits than many competitors in the freight factoring industry.

Advance amount — Your contract will spell out a specific percentage of your invoices that will be paid upon delivery of a load. At WEX Capital, we work to get you the highest percentage possible as soon as you complete the work. This can be as high as 95% paid to you within 24 hours of load delivery.
Aging fees — there are typically aging fees in most factoring contracts. These fees accommodate for the risk associated with taking the risk of your invoices. The sooner your clients pay the factoring company, the lower the fee. The longer your clients take to pay, the higher the fee. Pay close attention to these fees, as some companies charge much higher aging fees than others.

You want to work with a load factoring company that doesn't try to take advantage of you, and you also want to work with customers who have a track record of paying quickly.

Hidden fees — some factoring companies tack on hard-to-find fees (set-up fees, invoice prep fees, invoice submission fees). These additional fees can quickly add up and cut into your bottom line.

There are no hidden fees at WEX Capital, and our agreements are transparent and easy to understand.

Know the payment processing window — most load factoring companies have a cutoff for processing payment for loads delivered. Often, this is at noon. If you deliver your load and process your invoice before the cutoff time, your factoring partner will send your advance the following day. If you miss the cutoff time, you will experience a 24-hour delay in your advance payment.

Be aware of your cutoff time so you can plan accordingly.

Contract termination — any factoring contract will have a defined period for which you are under contract with the freight factoring company. Typically, you will be required to send a notice of termination a certain number of days before the contract expires. Make a note of these requirements so you know what to do should you ever need to end your factoring contract.
Why do companies use freight factoring?
The reasons an owner-operator or small business might use factoring are closely tied to the benefits. Here are the top four reasons you might consider freight factoring.
Cash flow — many smaller companies are at the mercy of their clients paying invoices for delivery. With invoice factoring, you increase working capital and have quick access so you can grow. With payment as soon as 24 hours after delivery, you have the cash flow necessary for payroll, new equipment, and unforeseen financial needs — all without taking out loans.
Administrative help — for some businesses, offloading the administrative tasks surrounding invoice collection is worth the cost of factoring.
Credit checks — when you factor with WEX Capital, we check the credit of the clients you haul for. This helps ensure you are getting loads from quality customers.
Access to load boards — factoring with WEX Capital gives you access to load boards so you can grow your business. Each new company you haul for is an opportunity to grow your business.
How much does invoice factoring cost?
Invoice factoring, or load factoring, is a simple and easy way to qualify for business financing. At WEX Capital, we believe in absolutely zero hidden fees. Our factoring services are covered with one clear factoring fee. What we negotiate with you is what you pay with zero surprises.
The cost of factoring depends on a few factors related to your business, but when you factor with us, you can expect quick access to at least 96% of your invoice amount (in some cases, even more). We will work out the details of your factoring agreement after you complete the application process.
For the cost of a small percentage of your invoice value, you have the funds you need to keep your commercial trucking business operations running smoothly and each driver and vehicle on the road. With working capital, owner-operators have the predictable income necessary to keep drivers in vehicles and deliveries on time.
Need help securing credit? The new WEX Capital Card gives you the credit line you need.†
WEX Capital offers more than invoice factoring. With the WEX Capital Card, you also have access to a powerful line of credit to keep your fleet moving forward.